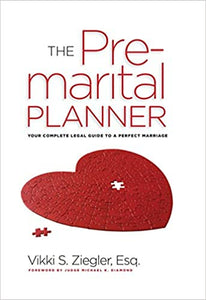 When couples wed, they promise to stay together "till death do us part"—but in reality, almost 50% of marriages end in divorce. How can you beat the odds and successfully nurture a long-lasting, happy, and healthy relationship? Proper pre-marital planning is the answer. Vikki Ziegler has seen it all and has extensive experience guiding couples emotionally and financially. She created this planner in order to share the lessons she's learned.
There's plenty of wisdom here on how to facilitate discussion on every crucial pre-marital concern, from whether marriage is the right choice to whether or not to have children and what to do about money. Ziegler goes through the basic rules that must be followed to create a thriving union, discusses the important emotional attributes that keep a couple together, and explains how to develop good communication and listening skills. She navigates through the sensitive topic of intimacy, as well as the tough issues surrounding anger and conflict resolution. And because clashes over money can torpedo a marriage faster than almost anything else, there's plenty of in-depth attention devoted to finance, with charts and lengthy questionnaires that can eliminate nasty postnuptial surprises.
Filled with interactive charts and questions for couples to answer together, plus tips and tools, THE PRE-MARITAL PLANNER provides smart answers to the fundamental matters that need to be addressed before you enter into the most important relationship in your life.